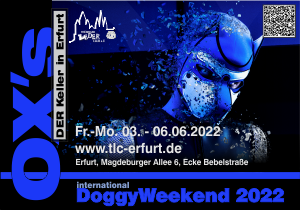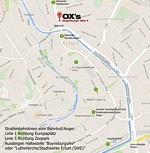 Lageplan OX's (zum Vergrößern bitte auf Karte klicken)
Participants language:
- German
- English
- Sign language
Veranstalter:
Thüringer Lederclub e.V.
Magdeburger Allee 6
99086 Erfurt
E-Mail: vorstand@tlc-erfurt.de
URL: http://www.tlc-erfurt.de

directly to the online-registration

Wuff, Wuff Petplayer,
the TLC e.V. is origanizing again an international meeting for Dogs and his owner. You can slip into your role for a whole weekend and you can join together with like-minded petplayer.
From 3th June to 6th June 2022 we are looking forward to offering you a comprehensive program.
The whole things are designed by Petplayer for Petplayer. Experienced guys and newcommers are welcome.
2022-06-03 (Friday)
09:00 pm Welcome-Party
Location: Clubceller OX's
- Registration
- Welcome and instruktions
- DJ Nemo
- Playtime
End 04:00 am

2022-06-04 (Saturday)
02:00 pm Outdoor-Play

- Workshop
- Dogtraining
- Playtime
- Foto-Shooting
-
Feeding (coffee + cake inkluded)
09:00 pm OX's Doggy-Party

- Puppies baptism
- Playtime
End 04:00 am

2022-06-05 (Sunday)
01:00 pm Snifftour
- Discover cultural issues in Erfurt


07:30 pm Doggy-Dinner
Mainevent of the Doggyweekend
- The great feeding of the dogs, tho owner dine at the festive table
- Play, Fun and Party
End 04:00 am
Drinks are not inkluded.
Packet price per person: 79,00 €

2022-06-06 (Monday)
11:00 am bis 02:00 pm
Brunch
- optional offer
- Adoption of the participants

Price per person: 16,00 €
Application deadline: 2020-05-20
There are no costs for travel and accommodation inkluded.
The event is a closed club event with a limited number of participants and its necessary to registration. The minimum age for male participation is 18 years.

Please note that the currently valid Corona rules apply to all events and we will comply with at least 2G.

Are you interested? in this case join us! We look forward to your participation :))
TLC - Thüringer Lederclub e.V.